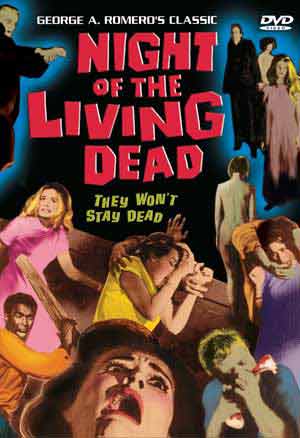 Coleccionismo!!!
1.-NIGHT OF THE LIVING DEAD:
They won't stay dead! They keep coming back in a bloodthirty lust for a human flesh!...
Directed by George A. Romero en 1968 para Image ten, inc.
Electronic sound effects by Karl Hardman
La banda sonora de este clásico del cine de terror se compone de múltiples compositores supervisados por el productor del film Karl Hardman. La mayoría de los temas están rescatados de los baúles de Capitol años 50´s.
La copia que tenemos en este listado es de Varese Sarabande (
Stock
) de 1982 edición americana.
Es primer trabajo del maestro del genero George A. Romero y ha sido adquirido por el Museum of Modern Art.
(
Stock
)
2.-SCREAMERS:
They're men turned inside out! And worse...they're still alive!
Directed by Dan T. Miller en 1981 para New World Pictures.
Música de Luciano Michelini.
Compositor italiano que comienza su carrera a principios de los 60´s componiendo muchos "sword & sandal" films, también trabaja para la TV & films italiana.
(
Stock
)
3.-MARTIN:
Directed by George A. Romero in A Laurel Film en 1977. A Libra Films release.
Música de Donald Rubinstein.
Compositor de Jazz contemporáneo del área de Boston y súper famoso músico de soundtracks.
Esta es una las películas mas originales del genero siendo una versión ultra-irónica del clásico de Drácula.
(
Stock
)
4.-FORBIDDEN WORLD:
Directed by Allan Holzman para New World Productions en 1982.
Música de Susan Justin y realizacion electrónica de Craig Hundley.
Las composiciones de Susan Justin residente en Los Ángeles y perteneciente a la escena new wawe/punk de la ciudad californiana, son electro-punk cósmico; tooooommmmmaaaaaa!!!!!!
(
Stock
)
5.-THE HOWLING:
Directed by Joe Dante en 1980 para Avco Embassy Pictures
Música de Pino Danaggio.
Esta película es el segundo trabajo en colaboración entre Danaggio y Dante, antes habían trabajado juntos en otra maravilla llamada Piraña. también nos encontramos a este compositor en Carrie de Brian de Palma, un girly-film que aun no he podido visionar; Placi programa sesión Carrie!!!
(
Stock
)
Saludos terroríficos :draculin)))